In Memory
Edward Hallenbeck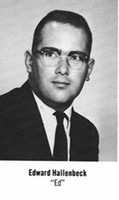 Edward Hallenbeck
1946-2008
Posted Sep. 26, 2008 @ 12:01 am
Updated Sep 26, 2008 at 5:56 PM

Corning, N.Y.
Edward Lee Hallenbeck, born August 11, 1946 in Corning, son of the late Norman and Frances McGlynn Hallenbeck, passed away unexpectedly on Tuesday, September 23, 2008 at the Bath VA Hospital where he had been a patient since April 18, 2008.
Ed graduated from Corning-Painted Post East High School in 1965 and then joined the US Army from 1966 to 1972, serving in Germany and Vietnam. He graduated from Corning Community College in 1976. His employment included Willow Creek Golf Club, security guard at Corning Inc., Thompson Motor Company, security guard at Dresser-Rand, dietary aide at the Bath VA, and US Post Office in Bath, NY.
Ed was a member of the Disabled American Veterans, Chapter 7 in Bath where he was First Jr. Vice Commander; past Master of Savona Lodge No. 755 F&AM; past patron of Savona Chapter No. 614 OES; the VFW in Corning; and Robert N. Austin American Legion in Campbell.
He was an avid sports fan, especially cheering for the Mets and Giants, and he enjoyed socializing with friends at the Stone House Café in Campbell.
Ed is survived by his wife, Sharon of Campbell whom he married on March 18, 1972; one sister, Joyce Hallenbeck of Corning; two brothers, Gary (Heather) Hallenb

eck

of Fairport, NY and Philip (Kim) Hallenbeck of Atlanta, GA; 5

nieces and nephews, Jonathan and Ryan of GA, Barbara Fryer of Elmira, Richard (Chris Smalt) Fryer of Campbell, Linda Wilson of Corning; several great-nieces and nephews; mother-in-law, Ruth Fryer of Bath; brother-in-law, William (Martha) Fryer of St. Petersburg, FL; also several aunts, uncles and cousins.
Services will be held on Saturday, September 27, 2008 at the Curtis Baptist Bible Church at 11:00 AM with Rev. Dale Ingraham officiating. D.A.V. and Masonic services will precede the funeral. Burial will be in Bath National Cemetery.
The family will provide flowers and respectfully asks that donations be made to the Masonic Brotherhood Fund, Savona Chapter Memorial Fund, Campbell Fire Department Rescue, or to the family to complete home adaptations started for him. The family will greet friends at the Savona Masonic Temple on Church Street in Savona following the service.


Read more: http://www.the-leader.com/article/20080926/News/309269878#ixzz3DipQNRG4
Follow us: 147539421926709 on Facebook