*In Memory*
Donald Rogers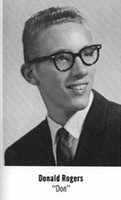 Donald Rogers
Fort Walton Bch, Fla.

Don Rogers, age 62, passed away unexpectedly on Tuesday, March 3, 2009 at the Fort Walton Beach medical Center.

Don retired from the Air Force with 23 years of service and was employed with Lee Pontiac Olds of Fort Walton Beach where he recently retired after 20 years.

He was predeceased by his parents, Donald and Elizabeth Rogers.

He is survived by his wife, Leslie; sons, Donnie of Fort Walton Beach, FL and Scott (Dorothy) of Suffern, NY; two daughters, Shannon Rogers of St. Petersburg, FL and Shannon Schlifit of Arizona; grandchildren, Scott Jr. of Suffern, NY and Crystal Schlifit of Arizona; one sister, Sharon (Joseph) Kapfhammer of Corning, NY; and best friend, Buddy Boy.

Burial will be at the convenience of the family.


Read more: http://www.the-leader.com/article/20090307/News/303079957#ixzz3DinqeUYP
Follow us: 147539421926709 on Facebook