*In Memory*
Roger (Gary) Childs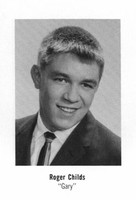 Per e-mail received from Brian Hill:
Roger (Gary) Childs died today, 12/21/2009. Gary was at his 'summer' home in Myrtle Beach, SC. Apparently, he died of a heart attack. His younger brother had gone over to help him, but he passed before the medics arrived.
Roger L. "Gary" Childs age 62, of Myrtle Beach, SC, formerly of Corning died Monday, December 21, 2009 in Myrtle Beach.
Gary was born in Corning on January 14, 1947, to Robert and Alberta (Sweitzer) Childs.
He graduated from Corning East High in 1965. He served his country in the United States Navy from 1966 to 1970. He worked for Corning Incorporated for over 35 years as a machinist and retired in 2001 from Sullivan Park.
Gary enjoyed living on his boat in Myrtle Beach, during the winter and spending his summers at Seneca Lake. He enjoyed reading, crosswords and motorcycles. He made friends wherever he went and was affectionately known as " O Pa". He loved to travel to new places and have new adventures, and even went bungee jumping off a bridge during his vacation in Australia. He will be missed by his family and his many friends.
He is survived by the mother of his children, Jean Childs; his son: Mike (Shelley Bates) Childs of Corning; two daughters: Laura (Chad) Ewell of Big Flats and Leslie (Lonnie) Reid of Corning;; three brothers: Robert Childs of Corning, Donald (Linda) Childs of Boca Raton, FL, and Jerry Childs of Myrtle Beach, SC; six grandchildren: Alex and Jordan Ewell, Molly, Morgan, Devon, and Owen Reid. Gary was predeceased by his brother, Loren Childs.
Calling hours will be held at Phillips Funeral Home & Cremation Service, 17 W. Pulteney Street in Corning on Tuesday, December 29th from 6PM to 8PM with Memorial Service of Celebration for Gary's life following calling hours at 8PM.