*In Memory*
Ruth Eisenrieth (Rogers)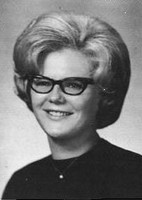 Ruth Anne Rogers passed away at the Consulate Care of Seminole, Florida at the age of 64 on Thursday, November 24, 2011 after a courageous battle with Lou Gehrig's disease (ALS).

Ruth Anne was predeceased by her father Charles Eisenrieth of Corning and is survived by her mother Betty of St. Pete, Florida. She was previously married to Donald E. Rogers (deceased). She is survived by her children Shannan of Clearwater, Fl., Scott (Dorothy)and grandson Scott Jr. of Suffern, NY along with her sisters, Lois (Art) Tombasco of Binghamton, NY, Patty Harbachuk of Gulf Port, Fl. and Kelly Stevens of Wayland, NY.

Ruth Anne resided for many years in Dumont, NJ where she owned and operated Salon 95. She loved the outdoors and was an avid cyclist, rock climber and a member of Outward Bound.

She will be missed dearly by all those who loved her and wish her peace in heaven where she can now be free from pain and suffering.

A memorial service will be held at the convenience of the family at the Sun Coast Hospice and also at a later date in Dumont, NJ. Memorial donations can be made in Ruth's name to ALS.org/donate.