*In Memory*
William P. Fitzgerald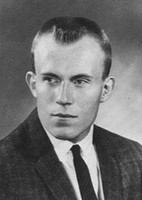 Elmira | William " Pat " Fitzgerald of Elmira, NY, 68 years old, passed away at Arnot Ogden Medical Center, on December 4, 2014. Pat was born March 23, 1946 in Corning NY. He was the son of William J. Fitzgerald and Florence E. Flood.
He was a graduate of Corning / Painted Post East High School and the Simmons School of Embalming. Pat, additionally, received an Associate's Degree in Fire Science, from Corning Community College. He retired from the City of Corning Fire Department after 25 years of faithful service.
Pat was very involved in his community, volunteering for Big Flats Fire Dept, Painted Post Fire Dept., Monterey Fire Dept. and South Corning Fire Dept. He was also a Life Time Member of the South Corning Fire Dept. Auxiliary.
Pat gave many hours to the Greater Steuben Chapter of the Red Cross. He served on the National Disaster Action Team until his health declined and he was unable to travel. He also served as a volunteer instructor for numerous Red Cross based classes.
Pat was predeceased by his wife, Robin Fitzgerald, whom he married May 14, 1988 in Elmira, NY.
He is also survived by their children, Timothy (Julie) Fitzgerald of Anacoco , LA. Shaun (Lynn) Fitzgerald of Hornell, NY, James Rockwell Jr. (Betsy Walker) of Kalispell, MT., Michelle Holbrook of Bath, NY, Kristyn Davidson of Elmira, Heights, Cynthia Southard of Painted Post, NY, Katie Rockwell (Deshon Cook Sr.) of Horseheads, NY. Grandchildren, Nicole, Dylan, Alexandria, Trey, Malcolm, Trevor, Jennifer, Bianca, Caitlin, Nicholas, Allison, Mitchell, Morgan, Desmond, Deyja, DeShon Jr., Katrina, Kaiya, Zia, Alexander; and his special 4 legged children, Bailey and Quinn; his sister, Suzanne Fitzgerald of Bath, NY; and brother and sister in laws, William (Peggy) Whitford, Dennis (Carmella) Whitford, Francis (Anne) Whitford, Suzanne Whitford and Brian Bailey, all of Elmira, NY and Kevin (Claudia) Bailey of Kalispell, MT; and several nieces and nephews.
Per Pat's request, there will be no calling hours. Pat re-gave the gift of life, as he was a tissue and bone donor. A graveside memorial service, for friends and family, is projected to be held at St. Mary's Cemetery, in the spring. Full firefighter honors will be provided by the Corning Fire Department. A follow on notice will be placed in the Corning Leader, once the time of the Memorial has been confirmed. Acly-Stover Funeral Home will preside over the service.
If you would like to contribute to the memorial service, donations can be sent to Timothy Fitzgerald -156 Lacey Lane Anacoco, LA 71403.
Published in The Corning Leader on Dec. 14, 2014