*In Memory*
Lyndon Mayer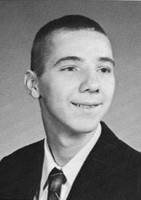 Lyndon H. Mayer
1947 - 2014 | Obituary |
Lyndon H. Mayer, age 66, of Corning, NY passed away Tuesday, March 25, 2014 at The Corning Center for Rehabilitation and Healthcare.
He was born a twin on June 7, 1947, in Corning, NY to the late Francis Carl Mayer Sr. and Betty Jean (Hilligus) Mayer.

Lyndon graduated from Corning Painted Post East High School in 1965. He worked at Corning Glass Works, Big Flats plant, until he was drafted into the U.S. Army. He served from 1966 to 1969 serving in Vietnam as a tunnel rat until he was transferred to Korea. Lyndon was a proud veteran who loved to wear his Vietnam and Korean Veteran cowboy hat.

He enjoyed trains, reading cowboy stories, and redesigning lamps from various items, and collecting old radios. He also liked to fish, hunt, and loved animals.
Lyndon was predeceased by his parents, Francis Carl Mayer and Betty Jean Hilligus Mayer; his twin brother Sheldon Mayer Sr., and his nephew Michael Joseph Stilson.
Lyndon is survived by his daughter, Nicole (Mayer) Wayland, and two granddaughters of Louisiana; his sisters, Linda J. Stilson, of AZ, Pamela S. Thompson, of Corning NY, and Cheryl A. VanGordan, of Corning NY; and his brother, Francis C. Mayer Jr., of Corning NY; and many nieces and nephews and numerous cousins.

A memorial service will be held at 12:00 pm (noon) Tuesday, August 26, 2014 at Carpenter's Funeral Home LLC, 14 E. Pulteney Street, Corning, NY with Pastor Jeffery Becker officiating.
Burial will follow at Bath VA National Cemetery with full military honors.
Memorial donations may be made in Lyndon's memory to an Animal Humane Society of one's choice.
Published in The Corning Leader on Aug. 24, 2014