*In Memory*
Brian Mourhess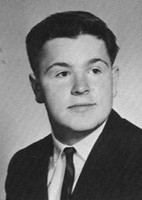 Mr. Brian K. Mourhess- 1/6/1947 – 4/7/2013
Brian K. Mourhess, age 66, of Fourth Street in Corning, NY died Sunday, April 7, 2013 at Corning Hospital.

Brian was born on January 6, 1947 in Corning to Kenneth and June (Gillam) Mourhess. He was a graduate of East High School, continuing on to be an electronics repair technician with several local companies including the Corning Building Company. Brian loved cars and car racing, bowling, and listening to music of all kinds. He was a very intuitive and honorable person who cared about others, putting their needs above his. He was also very inventive and creative, and had a wonderful sense of humor.

He is survived by his sister, Kendra Mourhess of Corning; cousins, Michael and Roxanne Mourhess of Campbell and Tom Mourhess of Rochester. Brian was predeceased by his sister Barbara Deuerlein and his parents.

Calling hours will be held on Thursday April 11, 2013 from 6 to 8 PM at Haughey Funeral Home, Inc. 216 E. First Street in Corning. Graveside services will be held at the convenience of the family at Elmwood Cemetery in Caton.

Memorial donations may be made in Brian's name to the Corning Salvation Army, 32 Denison Parkway, Corning, NY 14830, Corning Meals-On-Wheels, 144 Cedar Street, Corning, NY 14830, or to your local food pantry.

Brian's family wishes to thank Corning Hospital's attending doctors, nurses, and staff for the excellent and comforting care they extended to Brian and his family.